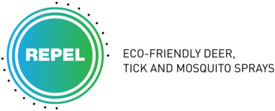 eco-friendly Pest Control
There are pests that can annoy Connecticut homeowners all year long. Some are just irritating, like the deer that eat flowers and shrubs. However, some pests, like mosquitoes and ticks, can carry diseases that are a serious health risk to our families and pets.
Unfortunately, the treatments to stave off these dangerous pests may seem like a greater risk than the pests themselves, so many homeowners choose to simply tough it out.
Why Repel?
Using only the safest, eco-friendly formulations – applied professionally by our highly-trained team – we guarantee a pest-free yard, all year long. That means you can keep your family and pets safe from mosquitoes and ticks, and deter deer from eating your plants, while keeping harmful chemicals out of the environment.
Our Guarantee
If you're not happy, we're not happy. If you're still being bothered by mosquitoes or ticks after we've sprayed, or if deer are still eating your plants, we'll come back – at no charge to you.*
At Repel, your satisfaction is everything to us. If you are not completely satisfied with an application of any of our formulations, contact us within 21 days of that application and we'll apply the treatment again at no additional charge.
With respect to deer repellents, please keep in mind that deer are wild animals. Depending on conditions, there may be no way to keep deer off your property. However, if you see deer eating your plants after a repellent application, call us and we'll come back and spray repellent again at no additional charge.
*We stand by our formulations and our expert team. However, if post-applications instructions regarding watering aren't followed, we may charge you for additional treatment.
Apart from just being irritating, mosquito bites can also be dangerous. In recent years, mosquitoes have been increasingly responsible for spreading diseases like West Nile and Zika virus – and that makes protecting our families from them an even greater priority.
Repel offers both repellent and safe pesticide sprays to keep your family safe. Our chrysanthemum-derived pesticides kill mosquito larvae, while our garlic-based barrier sprays keep adults off your property. The one-two punch of contact adulticide and repellent keeps your family and pets safe all summer long – without exposing them to harmful chemicals.
Recommended treatment
Repel's mosquito formulation should be applied at least monthly during the spring and summer (May-September)
Subscription service available
Contact us today for a no-obligation, free estimate.
The CDC reports that cases of diseases transmitted by fleas, ticks, and mosquitoes tripled between 2004 and 2016 to approximately 650,000. About 75 percent of the diseases were caused by ticks – and many of these were newly discovered illnesses.
With Lyme diseases especially pervasive in our area, it's important to keep your family safe.
Repel lets you enjoy your property again without the worry of bites and tick-borne illnesses. Since ticks don't fly and live in low foliage, we use professional, high-volume sprayers to apply a very effective formulation derived from chrysanthemums. This low-toxicity product is used for both outdoor and indoor treatments, so it's safe for use around kids and pets.
Recommended treatment:
Repel's tick formulation should be applied at least three times during the peak tick season (April-October) in our region
Subscription service available
Contact us today for a no-obligation, free estimate.
Deer will eat just about any plant on your property if they're hungry enough. Whether it's Hosta, impatiens, your hydrangeas, or the privacy border you've been growing for the last decade, deer will devour it. Their penchant for your plants can be both annoying and expensive.
Repel offers homeowners an effective way to keep deer away from property and plants, without harming the deer – or your family and pets. Whether it's protecting your broad-leaf evergreens in the winter or your perennials throughout the summer, Repel's treatments can keep help deer at bay.
With top-of-the-line equipment and a professionally trained team, we'll apply our earth-friendly formulations to your yard and keep the deer away.
Recommended Deer Treatment:
Connecticut Green offers both growing season and winter treatments
Subscription service available on a seasonal basis
Contact us today for a no-obligation, free estimate.