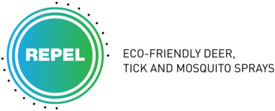 Will Repel's sprays kill all mosquitoes and ticks?
While we wish we could say yes, the truth is that no service can offer 100 percent protection from every mosquito and every tick. There are a lot of mosquitoes out there! We can promise that, at the very least, you will have dramatically fewer mosquitoes and ticks on your property.
You may notice a slight odor from our natural formulations, but it doesn't smell bad – and the smell dissipates quickly.
Apart from your treatments, how can I protect my family from mosquitoes and ticks?
Do Repel's deer repellent services keep the deer out of my yard?
No, but they keep them from eating your plants! Deer are wild animals, and if development, predators or other conditions drive deer toward your property, nothing but a good, solid fence is likely to keep them out. While we can't keep them off your property, we can keep them from destroying it. With our treatments, they won't cause expensive and unpleasant damage to your flowers and shrubs.
Will your deer repellents harm the deer?
No. Our deer repellent formulation simply gives the foliage on your property an unappealing flavor so the deer will not eat it.
How can I find how much it will cost to treat my property?
Give us a call or use the contact form on our site!
Can I start a program at any time?
Yes, of course! Connecticut Green offers year-round services to protect your family and your property from deer, ticks and mosquitoes. The sooner you start, the more protection you'll have!
How long does a barrier spray for mosquitoes protect my property?
For our barrier sprays, we recommend treatment every two to three weeks for most properties during the summer. Of course, weather and the severity of your mosquito problem will both be factors.
Do I need to be at home for Repel's treatments?
Nope! We'll let you know in advance that we're coming and confirm that we've treated. You can carry on with your day.
Do I need to keep my children and pets inside during or after spraying?
We recommend that your kids and pets stay inside during the treatment and for at least one hour after to let the product dry.
How safe are your formulations?
We use naturally derived, eco-friendly products that are extremely safe. We also offer organic products for those who prefer them.
Can I just get a one-time treatment for a special event?
Of course! We totally understand how mosquitoes can ruin your outdoor party – and no one wants to have to worry about ticks, either. If you're hosting an outdoor wedding, a Fourth of July barbecue or just a family picnic, we're happy to provide a single-event treatment to protect you and your guests and keep everyone more comfortable!
Do you service commercial accounts?
Yes, absolutely! We work with landscapers, as well as businesses with outdoor spaces like cafes and office complexes. We'll also work with municipalities to help keep schools, playgrounds and other areas pest-free. Call us and learn how we can help make your outdoor spaces more enjoyable for everyone!
Keep your property free of pests all year long with Repel's subscription services.
We'll spray every month with our earth-friendly, safe formulations to keep deer from eating your plants, and to keep mosquitoes and ticks from biting you, your family and your guests. With year-round sprays, you'll have constant protection throughout the year.

Get a free estimate, and to learn about our special bundled offers!